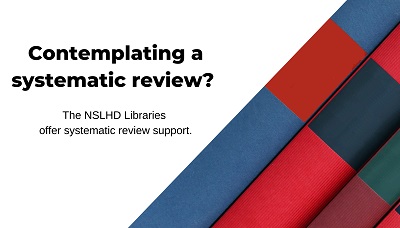 A systematic review attempts to identify, appraise and synthesize all the empirical evidence that meets pre-specified eligibility criteria to answer a specific research question. Researchers conducting systematic reviews use explicit, systematic methods that are selected with a view aimed at minimizing bias, to produce more reliable findings to inform decision making. (Cochrane Library, 2020)
NSLHD Libraries offers a 3 tiered service for systematic review support which meet recommended standards.
Tier 1 - Assistance (suitable for NSLHD staff undertaking a systematic review for a university assignment, college project or PhD)
Tier 2 - Acknowledgement on publication
Tier 3 - Co-investigator / co-authorship
If you would like NSLHD Librarian involvement in your systematic review, log into your NSLHD Libraries Springboard account (if you haven't yet signed up, sign up while using a hospital computer) > Forms > Systematic Review Enquiry form.