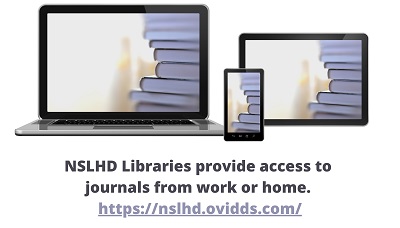 A selection of eJournals related to Psychiatry
For a full list of NSLHD ejournal subscriptions go to Springboard.
American Journal of Psychiatry
Official journal of the American Psychiatric Association. The most widely read psychiatric journal in the world.
Bi-monthly journal of The Royal Australian and New Zealand College of Psychiatrists (RANZCP) that aims to promote the art of psychiatry and its maintenance of excellence in practice.
Australian & New Zealand Journal of Psychiatry
The leading psychiatry journal of the Asia-Pacific region. Publishes original articles which describe research or report opinions of interest to psychiatrists. From the Royal Australian and New Zealand College of Psychiatrists.
A leading international peer-reviewed journal, covering all branches of psychiatry with a particular emphasis on the clinical aspects of each topic. Published monthly on behalf of the Royal College of Psychiatrists, the journal is committed to improving the prevention, investigation, diagnosis, treatment, and care of mental illness, as well as the promotion of mental health globally.
An international peer-reviewed journal publishing origininal studies and commentaries of general interest to clinicians, scholars, and research scientists in psychiatry, mental health, behavioral science, and allied fields.
A leading international journal in the fields of psychiatry, clinical psychology and the related basic sciences.