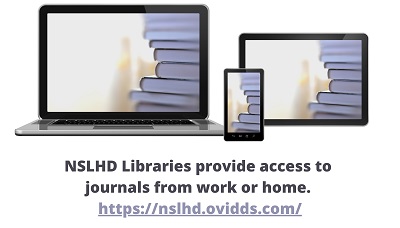 A selection of ejournals related to physiotherapy.
For a full list of NSLHD ejournal subscriptions go to Springboard.

American Journal of Physical Medicine and Rehabilitation
Topics include prevention, diagnosis, treatment, and rehabilitation of musculoskeletal conditions, brain injury, spinal cord injury, cardiopulmonary disease, trauma, acute and chronic pain, amputation, prosthetics and orthotics, mobility, gait, and pediatrics as well as areas related to education and administration.
Archives of Physical Medicine and Rehabilitation
This international journal brings researchers and clinicians authoritative information on the therapeutic utilization of physical, behavioral and pharmaceutical agents in providing comprehensive care for individuals with chronic illness and disabilities.
Cardiopulmonary Physical Therapy Journal
Topics range from physiological analysis to educational interventions.
European Review of Aging and Physical Activity
The main issues addressed are the impact of physical activity or exercise on cognitive, physical, and psycho-social functioning of older people, physical activity patterns in advanced age, and the relationship between physical activity and health.
Journal of Acute Care Physical Therapy
Official journal of the Academy of Acute Care Physical Therapy of the American Physical Therapy Association.
Journal of Geriatric Physical Therapy
Clinically applicable evidence for achieving optimal health, wellness, mobility, and physical function across the continuum of health status for the aging adult.
Journal of Women's Health Physical Therapy
Research focused on physical therapy for women's health and pelvic health in all individuals.
Physical and Occupational Therapy in Geriatrics
Health and wellness; prevention of aging-related functional decline and injury; innovative programming; clinical and technological advances; policy, and the knowledge, skills and attitudes needed for working with older clients.
Physical and Occupational Therapy in Pediatrics
Developmental and physical rehabilitation of infants, children and youth.
Physical Therapy and Rehabilitation Journal
Leading international journal for research in physical therapy and related fields.
Publishes reports of clinical and basic investigation of any aspect of the cerebral circulation and its diseases from many disciplines.
Leading subspecialty journal for the treatment of spinal disorders.
Official publication of the International Association for the Study of Pain and publishes original research on the nature,mechanisms and treatment of pain.