A selection of eJournals related to occupational therapy.
For a full list of NSLHD ejournal subscriptions go to Springboard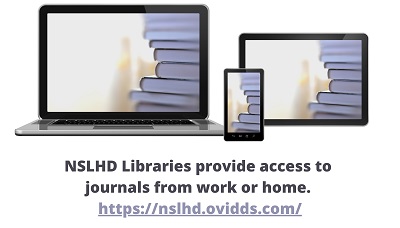 Australian Occupational Therapy Journal
The Australian Occupational Therapy Journal aims to be a leader in the dissemination of scholarship and evidence to substantiate, influence and shape policy and occupational therapy practice locally and globally.
American Journal of Occupational Therapy
The mission of AJOT is to publish peer-reviewed research examining occupational therapy practice so that occupational therapy professionals can make informed, evidence-based decisions.
Journal of Occupational Science
Journal of Occupational Science publishes original research and scholarly papers on human occupation, with a particular focus on the reciprocal relationship of occupation and health and well-being.
New Zealand Journal of Occupational Therapy
The journal informs of developments in occupational therapy practice and research, theoretical inquiry, professional and consumer issues, policy development and ethical questions.
Occupational Therapy in Health Care
Occupational Therapy in Health Care is a journal of contemporary practice in occupational therapy. It provides occupational therapy practitioners with a forum to stay up-to-date on current methods and theories in the field.
Occupational Therapy in Mental Health
Occupational Therapy in Mental Health provides professionals with a forum in which to discuss today's challenges- particular to psychiatric occupational therapy.
Provides information about occupational therapy issues, including clinical applications of recent research and theory, evidence-based practice and socio-cultural, political and economic influences on occupational therapy.
Physical and Occupational Therapy in Pediatrics
Physical & Occupational Therapy in Pediatrics (POTP) delivers vital information to all therapists involved in developmental and physical rehabilitation of infants, children and youth in hospitals, rehabilitation centers, schools, and health service centres