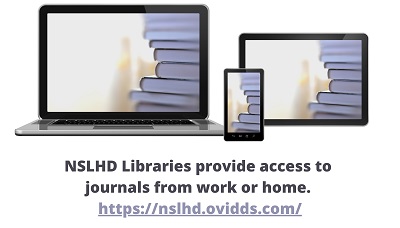 A selection of eJournals related to nutrition.
For a full list of NSLHD ejournal subscriptions go to Springboard.
The American Journal of Clinical Nutrition
Research on topics in human and clinical nutrition and dietetics, including obesity, vitamins and minerals, nutrition and disease, and energy metabolism as well as efficacy, and safety of dietary interventions in the context of disease prevention.
Current Opinion in Clinical Nutrition and Metabolic Care
Provides broad-based perspective on the most important advances with expert assessments of developments from the previous year. Key subjects include protein and amino acid metabolism, biology and nutrition, nutrition in the intensive care unit, lipid metabolism and therapy, anabolic and catabolic signals and pharmaceutical aspects, devices & techniques.
International Journal of Food Sciences and Nutrition
Integrates food science with nutrition to improve knowledge in human nutrition. Topics include: Impact of nutritional science on food product development; Nutritional implications of food processing; Bioavailability of nutrients and non nutrients; Nutritional quality of novel foods; Role of the human microbiota in nutrition; Food-nutrient interactions in human nutrition; Use of biotechnology in food science/nutrition; Food acceptability and dietary selection; Nutritional and physiological aspects of food; Dietary requirements and nutritive value of food; Food contamination and its link to human nutrition; Behavioural and consumer science.
Journal of Nutrition in Gerontology and Geriatrics
Research studies cover clinical and community nutrition issues that affect older adults. Covers a broad array of topics including preventive and therapeutic nutritional interventions for chronic disease, aging effects on nutritional requirements, nutritional status and dietary intake behaviors, nutritional frailty and functional status, usefulness of supplements, programmatic interventions, transitions in care and long term care, and community nutrition issues.
Nutrition and Cancer
Reviews current findings on the effects of nutrition on the etiology, therapy, and prevention of cancer. Includes research in nutrition, carcinogenesis, epidemiology, biochemistry, and molecular biology. Focuses on therapy research in clinical nutrition and oncology, dietetics, and bioengineering, preventative medicine, behaviour modification, education, functional foods, and agricultural and food production policies.
Nutrition in Clinical Practice
Publishes articles about the scientific basis and clinical application of nutrition and nutrition support. Contains comprehensive reviews, clinical research, case observations, and papers on the delivery of specialized nutrition support.
Obesity Reviews
Reviews papers from all disciplines related to obesity of interest to endocrinologists, cardiologists, gastroenterologists, obstetricians and rheumatologists, as well as health professionals working in general medicine and surgery.
Supportive Care in Cancer
Provides the most recent scientific and social information on all aspects of supportive care in cancer patients. It covers primarily medical, technical and surgical topics concerning supportive therapy and care which may supplement or substitute basic cancer treatment at all stages of the disease. Nursing, rehabilitative, psychosocial and spiritual issues of support are also included.