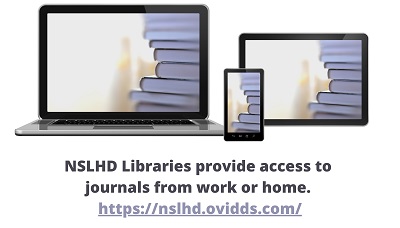 A selection of eJournals related to social work
For a full list of NSLHD ejournal subscriptions go to Springboard.
An international peer-reviewed journal reflecting current thinking and trends in Social Work. Promotes the development of practice, policy and education, and publishes original research, theoretical papers and critical reviews that build on existing knowledge.
British Journal of Social Work
Published for the British Association of Social Workers, this is the leading academic social work journal in the UK. It covers every aspect of social work, with papers reporting research, discussing practice, and examining principles and theories.
Publishes leading peer-reviewed original articles germane to contemporary clinical practice with individuals, couples, families, and groups, and welcomes submissions that reflect innovations in theoretical, practice , evidence-based clinical research, and interdisciplinary approaches.
Publishes the latest advances in areas such as aging, clinical work, long-term care, oncology, substance abuse, depression, and maternal health.
Journal of Gerontological Social Work
Aims to be the leading voice in thought development, research, educational training, and professional practice in the field of gerontological social work.Publishes work on a broad range of issues such as social and economic justice, health and wellness, productivity and engagement, informal and formal care, supports and services, safety and abuse, etc.
Journal of Social Work in End - of - Life and Palliative Care
Explores issues pertaining to serious, life-threatening, and life-limiting illness and their families across the lifespan. The focus includes, inter-professional practice and research; practice and policy innovations; practice evaluation; end-of-life communication and decision making; pain management and palliative care; grief and bereavement; ethical issues; sudden traumatic death; secondary trauma and compassion fatigue among professional caregivers.
Devoted to social work theory, practice, and administration in a wide variety of health care settings, this journalbrings you the most important articles on research, leadership, clinical practice, management, education, collaborative relationships, social health policy, and ethical issues from the most respected experts in the field.
This journal offers quality articles on clinical practice, education, research, collaborative relationships, mental health policy, and the delivery of mental health care services. It is devoted to social work theory, practice, and administration in a wide variety of mental health care settings.
Publishes research to advance the development of knowledge and inform social work practice. Includes analytic reviews of research, theoretical articles pertaining to social work research, evaluation studies, and diverse research studies that contribute to knowledge about social work issues and problems.